Perpheads V5​
I am excited to finally announce the release of the latest iteration of Paralake, V5! Many people have worked countless hours developing and curating this project and we are honoured to deliver this update to the community. This is the first of many steps forward for Perpheads and we hope we can continue to deliver new and improved content to the community for years to come.
Important Note: If you are not seeing the correct content, unsubscribe from Paralake City V4 or any older version of the map, this should fix any conflicts.
Before we get to the changes, I want to explain why it took us so long to finish V5. We started working on the map in late December, but it took us a good four to five months to get to where we are now. One of the major changes we wanted to include in V5 is the removal of any dependency on having different games installed. Paralake V4 uses a lot of CS:S textures, which make it essentially impossible to play the game if they are missing. Just to really show the problem, take a look at the comparison of V4 and V5 without CS:S content.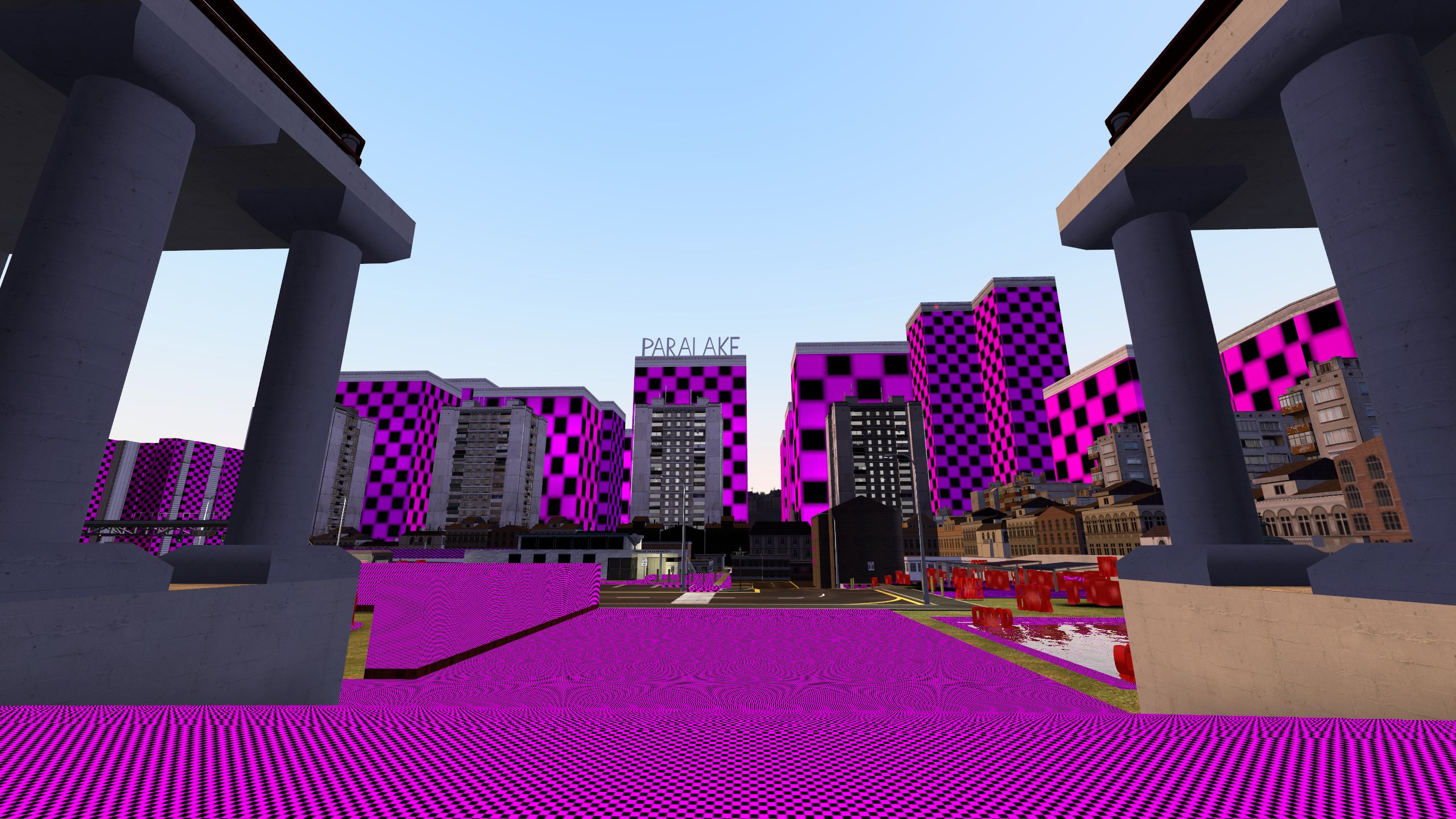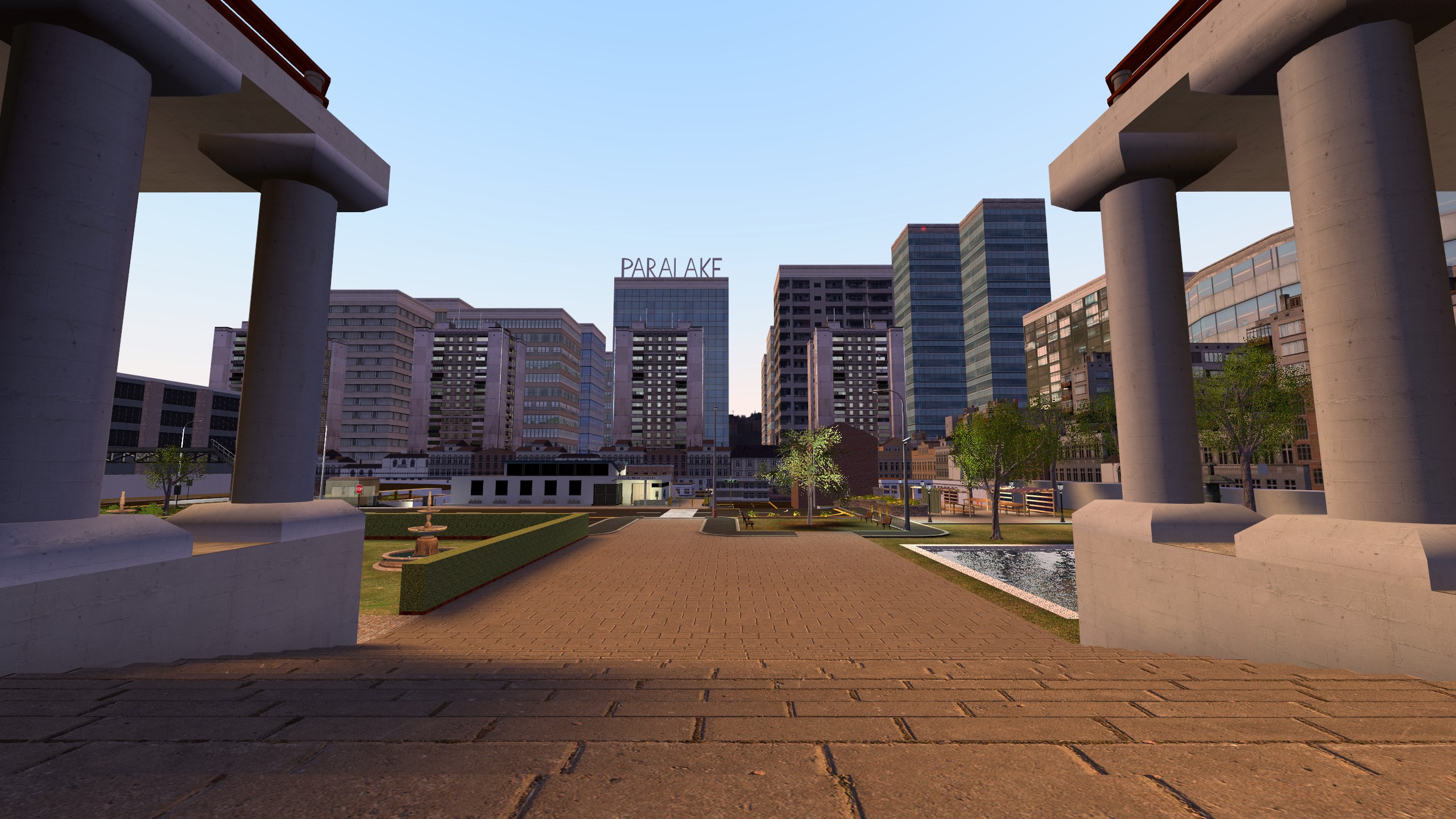 As you can imagine, we will never get a new player who does not own CS:S to stay on our server when the first thing they see is a wall of missing textures of errors. Hopefully this allows us to recruit a lot more newer players in the future. To make sure you can enjoy the new experience, avoiding the hassle of conflicting and missing content, you will need to unsubscribe from
Paralake City V4 Content
and
Paralake City V4
.
Another major difference to previous releases of new version of Paralake, is the amount of fine tuning and bug testing that was done to achieve the most polished version of Perpheads yet. Everyone involved put a ton of effort into every aspect of the map and gamemode and we really hope you enjoy Perpheads V5.
Following is a hopefully mostly complete list of all changes (both in the map and code). It does not include any screenshots but to get a picture of the new map, just check it out yourself on the server or watch
@Tyla Jai
's amazing trailer to get a sneak peek or take a look at this very high resolution overview map of the
V5 (DANGER: BIG)
.
Map changes
Casino

Harlem's Casino is now open, check it out in the business area!

Blackjack has been added to the casino
Spin to Win has been added to the casino

2 free spins a day for premium members!

Slot machines have been added to the casino

Hospital

The Hospital has moved over the road and has had a big redesign

Huge thanks to @blackdown and @Exnem for working on the design for the new Hospital!

Police Department

Front parking has been moved across the road, allowing for a straight road from Shady street to the intersection
Replaced old 'Lieutenants Office' with 'Supervisors Office' sign
Jail Cells Overhaul (Reduced to 6)
Dispatcher room downsizing (4 seats)
Moved mirror inside elevator

Suburbs storage

Parallel parking bays added to encourage legal parking
Storage attendant moved inside to avoid massacres

Regals

Removed the part of the balcony fence you had to jump over.
Moved the staircase of the fire escape towards the inside to minimize headglitching.

Farm

Stairs have been added to one side of the farm
Is now available to purchase (again)
Farm road now has barriers on the sides

Slums

Fire exit added to the side of slums (ground floor)
Thickness of floors has been adjusted

J&M Glass Co. and Parker

Added separate entrance for each compound
The interior of both buildings has been altered
Removed Parker's back door
The 2 properties have been separated

Scrapyard

Decreased size of scrapyard to make space for new road

Hungriges Schwein

Updated interior
Updated exterior textures
Is now available to purchase (again)

Roxie's Diner (Replaced McUwes)

Redesigned interior/exterior
Added NPCs inside for all your fast food needs

Office

Windows have been improved to avoid one-way vision
Roof entrance has been moved
Roof door added back

Puffer Mart

2 shelf rows have been removed
You can now properly place items on the shelves

Pub

Interior redesign
Renamed to Yoghurto's Pub

Church

Benches are no longer destroyable

Gas Stations

Have been bought by the oil company Spoil

Beach

Bollards have been damaged to allow trapped cars to escape

Car dealer

Opened up car dealer back alley

City Hall

Lowered the grass walls in the garden
Added small park in front of Shady Street
Market is now open for business
Other map changes / fixes
All Counter Strike: Source textures and models have been replaced
Road textures have been updated
Various buildings and areas across the city now have newer, higher quality textures
Various interiors have been redesigned with newer models
Player clip has been removed on hick town dirt road to avoid crashes
Bullet proof glass has been removed from multiple locations across the map
Speed Limit Signs

Added 35mph sign at the end of Bollers street for Kalashnikov street
Lowered the speed limit in Parker tunnel to 65mph
Lowered the speed limit on Cornfield road to 35mph

Static prop lighting has been changed and no longer makes most map props extremely dark
Somewhat complete list of changes​
Gameplay Changes

Casino System:
Cannot place nor use items other than keys
Blackjack

Low Stakes ($100-$5.000)
High Stakes ($2.500-$100.000)
Sidebets

Spin-To-Win

Prizes

Money: $1000
Money: $10000
Money: $100000
Money: $1000000
Item: Pumpkin
Item: Melon
Item: Television
Item: Piano
Item: Piece of Metal
Item: Paper Towels
Item: Light Bulb
Item: Salt
1 Day Premium
7 Days Premium
Month of Premium
Car (Above $2.000.000)

Casino Car Pedestal

Slot Machines
Poker
Vehicles:
Added Ornaments (Holiday Penguin & Hulla Doll), available for the following cars (more will be added later):


Bugatti Veyron SS
Bugatti Veyron 16.4
McLaren F1
Ferrari LaFerrari
Pagani Zonda C12
McLaren P1
Ferrari Enzo
Porsche Carrera GT
Mercedes McLaren SLR
Audi R8 Plus
Lamborghini Reventon Roadster
Lamborghini Murcielago LP670-4 SV
BMW 1M
Mazda Furai
Mazda RX7
Ford Raptor SVT
Ford F350
Ford Transit
Mini Cooper
Impala SS
Citroen C4
Ferrari 250GT
Volkswagen New Beetle
Nissan GT-R V-spec

Mazda Furai is now in stock at Paralake Cars for just $20.000.000
Properties:
City Hall Market stalls are now ownable (Cash Register not needed)
Hungriges Schwein & Farm are ownable again
Staff system:
Extended props can now be granted
Temporary ranks no longer require rejoin (Event Staff)
Organisation Changes:
Maximum level increased to 30
New Perks

Limousine
Faster crafting times
Drug changes:
Simplified Watering System

Low rate gives the maximum yield per minute but takes the longest
High gives the minimal yield per minute but is the quickest

Fixed issues with players not receiving drug dealer texts after selling 1000 drugs
New players now get bonuses from harvesting own drugs
The PH decals now indicate the spots the drug dealer can spawn at
Added and changed some locations
Police changes:
Added wheel clamp for RTU
Clamped vehicles can now be impounded if there is no roadcrew
DNA is now obtainable for players who get revived
Uploaded DNA doesn't need to be resolved by other players
Dispatcher has been downsized to 4
The police battering ram is no longer an rpg
Other:
New players get life alerts and more food
Keys are now only visible to other players when they are visible to you
Physguns are automatically put away after a prolonged amount of idle time
Players that are permanently blacklisted from OOC are able to use the help chat
Pop-up headlights now work for the following vehicles: Lambo Diablo VT, Mazda RX7, Ferrari F512 TR, Pontiac Fiero GT
Improved various sections of the UI so that they scale better for different resolutions
Fixed all chairs & benches positions
New shop signs
Added option to disable fountains in options
Short wooden fence no longer has gaps
Added large metal detector
Credits:​